Daphne Wageman (1982), is a visual artist and fine art photographer. She focuses on conceptual and portrait photography and specializes in 19th century glass negatives. She researches innovative applications in photographic processes and traditional techniques in analog photography such as dry plate photography and carbon printing. Her love for craftmanship is reflected in Daphne's innovative designed and handmade 3D installations.
After a career in (typo-) graphic design, stylist and designer in 3D LED light ornaments, Wageman graduated with honour as a photographic designer at the University of Applied Photography. In 2018
she completed The Northern Light Masterclass in visual storytelling.
The visual stories are based on Daphne's personal fascinations, experiences and reflections on her intimate world. The sophistication in her work created with deeply commitment allows you to feel connected with her stories and you experience a new dimension.
Her work has been showcased at Gorcums museum, Museum MORE, Rijksmuseum Twenthe, Scope Art Fair (Miami), Musée du Louvre (Parijs) and Galerie Pouloeuff. Wageman wins the first price for her pitch at the live photography event 'De donkere Kamer' with the project BlindZicht (BlindSight).
Daphne presented her expertise in glass negatives through the art program 'Het geheim van de meester', AVRO TROS. Invited and working together with experts in the art field she reconstructed 'The girl in white kimono' by using the original Breitner camera.
EXHIBITIOns
2020
THE GIRL IN A WHITE KIMONO
Rijkmuseum Twenthe – Enschede
Netherlands
HET GEHEIM VAN DE MEESTER
(The secrets of the master painters)
Gorcums Museum – Gorinchem
Netherlands
2019    
HET GEHEIM VAN DE MEESTER
(The secrets of the master painters)
Museum MORE – Gorssel
Gorcums Museum – Gorinchem
Netherlands
OBSCURA EXPO
Rotterdam Photo – Deliplein, Rotterdam
Netherlands
2018    
THE TIME MACHINE
Gallery Sehnsucht – Rotterdam
Netherlands
2017    
THE ROAD TO PERFECTION
Rijksmuseum Twenthe – Enschede
Netherlands
2016    
OPKOMEND TALENT 'BIJ MIJ'
Museum IJsselstijn – IJsselstijn
Netherlands
2015
THE BEAUTY OF HUMANITY
Scope art fair – Miami
USA
SEEME EXPOSURE AWARD PORTRAITS
Musée du Louvre – Paris
France
DOUBLE EXPOSURE – EXTENDED    Stadsschouwburg Rotterdam – Rotterdam
Netherlands
TORENKAMERFESTIVAL
VONDEL CS – Amsterdam
Netherlands
BLINDZICHT
Galerie Pouloeuff – Naarden
Netherlands
DOUBLE EXPOSURE
Columbia college Chicago / Fotovakschool
USA – Netherlands
2014
NEW DUTCH PHOTOGRAPHY TALENT
Gallery 5&33 – Amsterdam
Netherlands
BLINDZICHT
Vondel CS – Amsterdam
Netherlands
THE FOLK REVISITED
VOLKSHOTEL – NEW DAWN – UNSEEN
Volkshotel – Amsterdam
Netherlands
HET ZELFPORTRET – AVRO KUNST
Vondel CS – Amsterdam
Beeld en geluid – Hilversum
Netherlands
PUBLIC COLLECTION
2017
THE GIRL IN A WHITE KIMONO
Reconstruction glass negative – G.H. Breitner
Rijkmuseum Twenthe – Netherlands
PRICES / AWARD

2018
PITCH YOUR PHOTOPROJECT
De donkere kamer DDK#39 – DuPho
First price – BlindZicht (BlindSight),
                    a longterm visual story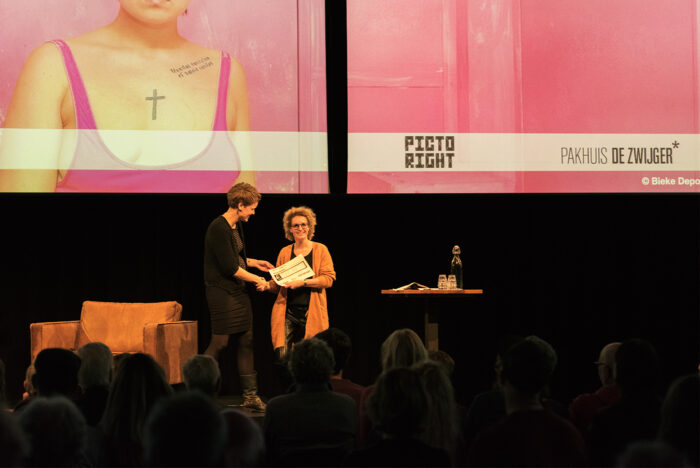 2016
ND AWARD – HONORABLE MENTION
  –  Conceptual photography fine art
  –  Portrait photography fine art
PUBLICATIONS
2018    
HET GEHEIM VAN DE MEESTER – BOOK
* Golden edition

2017    
LICHT ALS OERBRON
Shutr.photo
FOTOGRAFEREN ZONDER ZICHT
Kiekie online
2016
SEEME – The beauty of humanity
2015
SEEME – The exposure award, portraits
2014
NEW PHOTO, Dutch Photography talent
NEW DAWN, Editorial